Via Miriam (V+, 4 pitches)
Torre Grande, South Summit (2361 m), Cinque Torri, Dolomites, Italy
July 4, 2006
Via delle Guide, Torre Grande, West Summit
North-West corner, Torre Barancio
Via Miriam, Torre Grande, South Summit
After our warm up climbs of Via delle Guide (IV) and Torre Barancio (IV) we were now ready for a harder climb and we thus choose the famous route Via Miriam (V+), which is located on the South face of Torre Grande.
Elvira taking in the view from the right "penthouse" window. The refugio is very popular due to its easy access (by car) and close proximity to the crag (the south summit of Torre Grande is seen behind the hut).
Move the cursor over the picture to see the route.
As we had already noticed the loose rocks on the towers we got up early to beat the (rock throwing) crowds, but were unfortunately too late: one party was already ahead of us. We wait for them to finish the first pitch and then take off. Luckily, most of the route traverses to the left which minimize the risk of being hit by a dislodged rock.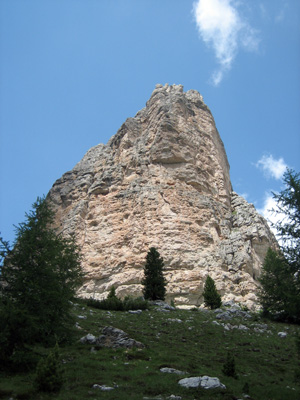 The south face of Torre Grande, South Summit.
Move the cursor over the picture to see the route.
The first pitch is the hardest (V+) followed easier climbing/scrambling to get to a belay before the big roof in the middle of the face.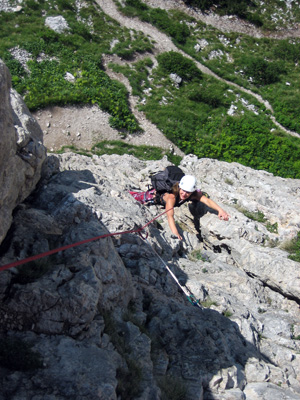 Elvira following on the first crux pitch.
The roof looks quite impressive to close and it turns out to be the best pitch we climbed during the trip. Various techniques have to be put into use both to get to the roof and to climb the roof itself and the exposure is just stunning!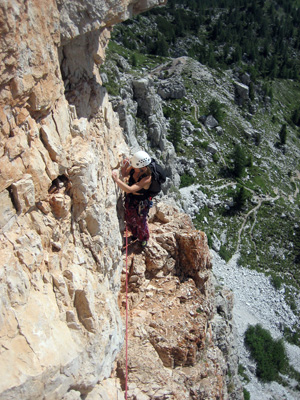 Elvira traversing a rock shelf between the first pitch and the roof pitch.
The fourth pitch is a corner which makes us wait for the party above us to finish in order to avoid rock fall which would funnel onto us. As we wait, an arrogant Italian guide with two clients arrive at the belay where we are waiting and he clearly has no intention of waiting for the climbers above to finish. Instead of starting an argument we just let them pass and wait for them to finish - it is a nice and sunny day and we are thus not in a hurry! After the fourth pitch you can either continue to the summit via easy climbing/scrambling but the guide book recommend to walk-off to the left as the descent from the summit is a bit tricky. Given that we had already been to the summit of Torre Grande the day before we opt for the walk-off, which also turns out to be a bit tricky route finding wise.....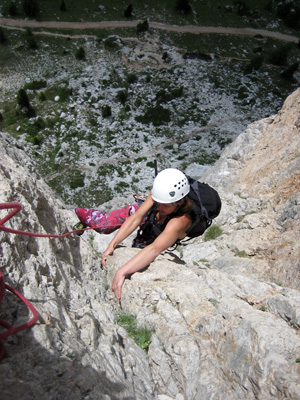 Elvira laybacking the final pitch.