Christiansborg Rundt - swimming 2 km around the Danish Parliament
Today I participated in the 2 km open water swimming contest
Christiansborg
Rundt
for the second time. It is a great race in the harbour of Copenhagen swimming in the canals surrounding
Christiansborg

Palace
- the place of the Danish Parliament.
This year I completed the race in 47 minutes 24 seconds which is 36 seconds better than my 2006 time - and this year the route was even 100 meter longer than in 2006! I was thus quite happy with myself although I realize it is not an
Olympic
record! I ended as number 328 out of 411 males - so at least I was not last in the race :-) I was also just happy not to freeze my but off in the 18 °C cold water!
It is a great event with a lovely atmosphere and it is just fun to watch the oldest part of Copenhagen from that angle!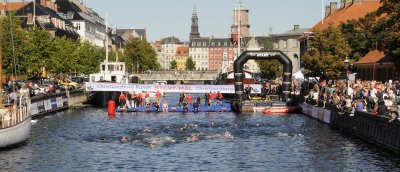 The start of my heat.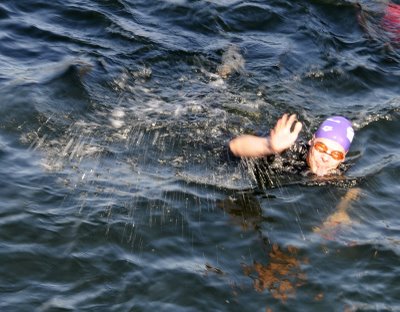 I had enough surplus of energy to wave to the photograph (= my wife Elvira who could not participate this time because of her recent delivery of our baby).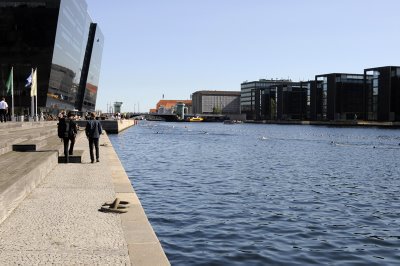 You get to swim past some of the most famous buildings in Copenhagen such as the Royal Library "Black Diamond" seen on the left (I am a little dot in the water on the right).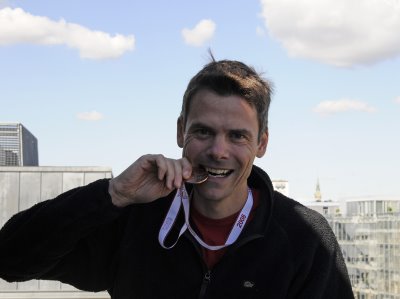 Even number 328 gets a medal :-)
Labels: training