My climbing partner Carsten P. Jensen in TV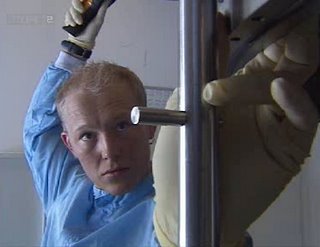 It seems like all my friends are in TV these days. Yesterday it was my climbing partner Carsten P. Jensen's turn! The reason for his appearance in TV was a new NASA grant to build a new front-line research satellite, NuStar, to study black holes in the universe.
I don't know how many nights I have been confined in a tent alone with Carsten while he has talked about black holes, hard X-rays and the NuStar satellite proposal! I certainly know a lot more about the universe than I ever thought I would! I was thus very happy for him and his boss, Finn Christensen, when they finally got the green light from NASA to build the satellite. Now I am sure that Carsten will have many more stories about the building phase and the research results when the satellite is launched into space in 2011!
You might wonder what is so exciting about black holes (I certainly do :-). Interestingly, their technology might also be used to reduce radiation in mammographies. Pretty cool that Carsten's X-ray mirrors might both be used to study black holes and breasts!
You can see the TV broadcast from DR2 Deadline by clicking
here
(
QuickTime
or
iTunes
required).
Previous posts.